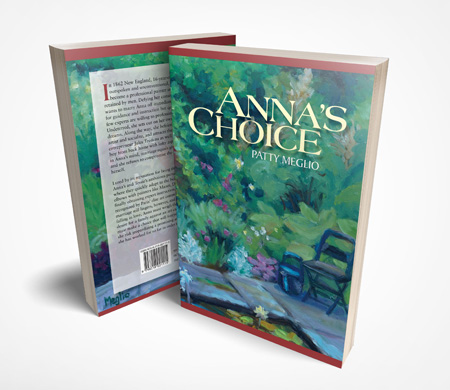 Anna's Choice
An Historical Fiction Novel
In 1862 New England, 16-year-old Anna Averyis outspoken and unconventional, and determined to become a professional painter in a vocation exclusively retained by men. Defying her conservative father–who wants to marry Anna off immediately– Anna searches for guidance and instruction but quickly realizes that very few experts are willing to professionally train a woman. Undeterred, she sets out on her own unique path to fulfill her dreams. Along the way, she befriends Tessie Bishop, a fellow artist and socialite, and attracts the attention of business entrepreneur Jules Trudeau as well as Sam Hamilton, a shy boy from back home with lofty aspirations of his own. But in Anna's mind marriage equals giving up on her dreams, and she refuses to compromise the future she envisions for herself.
Lured by its reputation for being the center of the art world, Anna's and Tessie's ambitious pursuits take them to Paris, where they quickly adapt to the bohemian art scene, rubbing elbows with painters like Manet, Degas, and Cassatt. After finally obtaining expert instruction, her artistic abilities are recognized by Paris' elite art community. The pressure of marriage still lingers, however, and when she finds herself falling in love, Anna must weigh the value of her feelings and desire for a family against an art career. Ultimately, Anna must make a choice that will forever affect her future: will she risk jeopardizing a promising art career and everything she has worked for so far in order to follow her heart?
The book is in soft cover, at 351 pages, and is $19.99 plus Ct state sales tax ($1.27). Contact me to order a copy.
Cards
Note cards of all of my paintings are available and printed on demand. The blank cards are printed on 80 lb. card stock, 4.25″ x 5.5″, and come with Classic Crest solar white envelopes. Cards are $3 each or $24 for a box of eight. Contact me to order.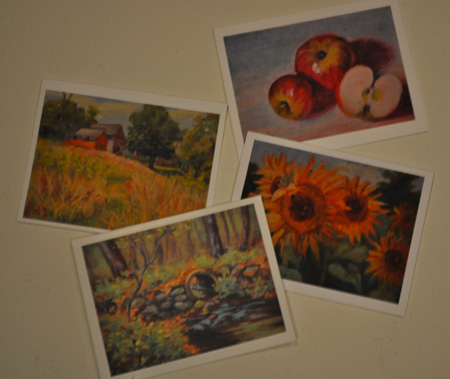 My Paintings
All paintings shown on this website are for sale. Please contact me for prices and sizes.